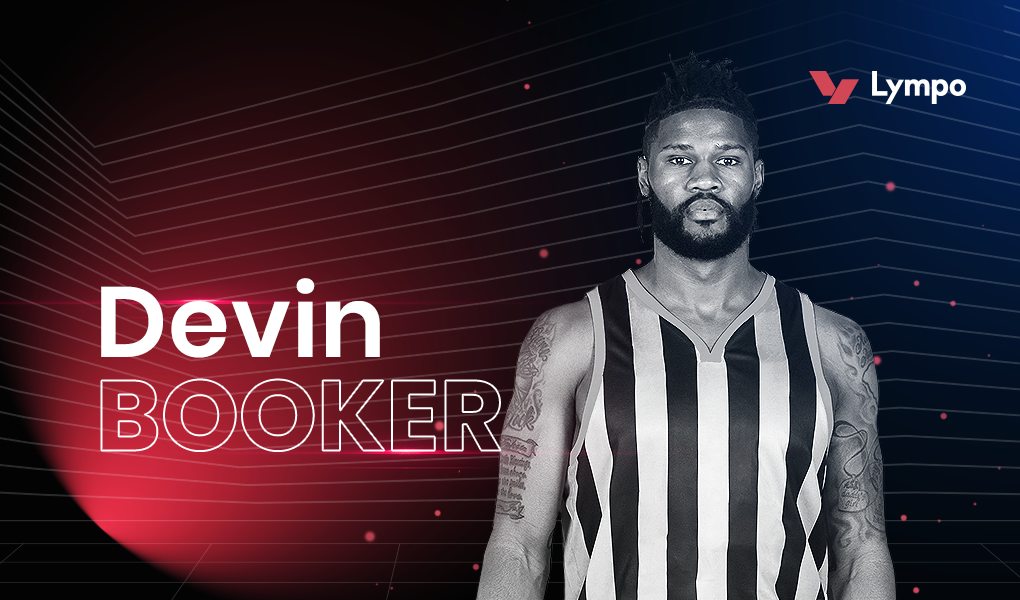 Introducing the newest Lympo Athlete - passionate Fenerbahçe baller Devin Booker. This EuroLeague powerhouse has made waves with his dominant play on the court, earning numerous accolades, including the Turkish League champion title and a spot in the All-EuroCup First Team. To celebrate his impressive career, Devin is launching a stunning NFT collection.
Although Devin Booker was already a resilient young baller during high school, his professional basketball career started with college basketball in 2009 when he joined Clemson University team Clemson Tigers. After graduating in 2013, Booker looked for opportunities to pursue his pro career outside collegiate basketball and decided to try his luck in Europe.
That's when he began his career in France with SLUC Nancy in the LNB Pro A. Later that same year, he moved to the French 2nd Division club JL Bourg. He quickly made a name for himself, becoming the Finals MVP of the 2013–14 LNB Pro B season.
After playing with JL Bourg for a while, Devin Booker joined the French 1st Division club Élan Chalon in 2015. The team also played in the FIBA Europe Cup and finished third during the 2015/2016 season. The same season, Booker was named the MVP of the league.
2016 was an eventful year for Devin. During the summer, he joined the New Tork Knicks' roster for the NBA Summer League. Later that year, he signed with Bayern Munich of the BBL in Germany, where he dominated for three seasons with an average of 12.4 points and 5 rebounds per game.
In 2019, Devin Booker joined the Russian club Khimki and signed a one-year deal. After a year, his contract was renewed with an option for an additional year. With Khimki, Devin played both in the Russian Basketball Super League 1 and EuroLeague.
Today, Devin is a key player for Fenerbahçe in the Turkish Basketball Super League, where he's signed a two-year contract. With his impressive track record, Devin is poised to continue dominating the European basketball scene. Get ready for an electrifying NFT collection from this talented athlete.
Career Highlights
2022 - Turkish League champion
2018 - All-EuroCup First Team
2018 - BBL All-Star
2018 - All-BBL Second Team
2016 - LNB Pro A MVP
2014 - LNB Pro B Finals MVP
2013 - Third-team All-ACC
Lympo NFTs
Lympo will release 5 different rarity digital sportscards in the Devin Booker NFT collection. You'll be able to choose from Common, Uncommon, Rare, Epic, and Legendary cards for your collection. And there's going to be a one-of-a-kind — GOAT (Greatest Of All Time Card) that will be put up for auction.

Have any questions?
Head to our Help Desk, join our Discord or Telegram channels. Follow us on Twitter
And make sure to get all of the news delivered right to your inbox — subscribe to our newsletter